04 – Starting a coworking and coliving project during Corona – with Anna from Ruralco in Spain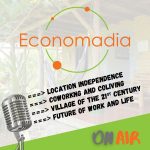 In this episode: how a rural coworking and coliving project comes to life. How the combination of remote work and Corona crisis makes people to create new ways of living together.
It's September 2020 – and rural coworking and coliving are on the rise due to the ongoing Corona crisis around the world. One new project on the map is Ruralco which is a place that you can find near Valencia, Spain.
Co-founder Anna tells us the story of this place that only recently opened its gates for people to come. Meet her and donkey Pepe in this episode 🙂
Thanks for your attention and your kindness!
---
Really useful links from the podcast
Ruralco coworking and coliving: ruralco.live

Music: Dan Lizard – Happy Feelings
LISTEN TO MORE EPISODES           Read our blog           Go back to main page