---
Powered by
---
---
READY FOR THE THRIVING NOMADS WORKATION?
The next Economadia Workation has a Balkan flavor included!
Your organizer Jorin and your host Rowena will make sure that you will have a great time and get to know to Bulgaria from a local perspective.
SCHEDULE
Example of how one of our weeks will look like.

Your input is welcome: if you wish to hold a workshop you are more than welcome to share your expertise with the other participants.
ACTIVITIES
The location which is surrounded by nature gives us a lot of space for many things.
PRICING
Early bird prices available until May 13th!
↓ What you have included ↓
Accommodation
Full board healthy local food
Coworking space
Access to all masterminds and workshops
Regular cleaning
Access to washing machine
Daily schedule for your structure
External experts for coliving
Outdoor activities (such as hiking)
Fun, friends and good talks
Some nice little surprises that money can't buy
Corona cancellation policy
↓ What you have not included ↓
Potential visa costs
Activities outside the regular program
Transportation to the venue
Personal medical items
Special add-on Bansko Nomad Fest
(but we have an exclusive discount for you)
---
I participated in the workation which took place in the Uckermark area near Berlin/Germany which was amazing!

Fantastic location, great nature around, perfectly organized. And most importantly a super exciting group of online entrepreneurs who were happy to share expertise, inspiration, knowledge and fun.

A truly explosive mixture to give your business a boost and at the same time having a wine and a casual talk in the evening. Highly recommended!
The workation organized by Jorin gave me a massive boost for my business! Work and free time merged into one with having fun all day long. The exchange with the other entrepreneurs around was enriching for both, my professional as well as my private life.

There was sufficient time to get to know everyone beyond the typical chit-chat. Also, the view and feedback from people looking at my business from the outside was invaluable for the further development. Conversations at eye level have been greatly inspiring.

Community over competition at its best! I am looking forward to taking part in further workations!
---
YOUR HOST AND ORGANIZER
Jorin - Organizer
Jorin loves organizing and getting people together, and creating the best possible experience for. He already conducted a few workations and has a broad network in the scene of rural coworking and coliving - which comes as no surprise when being the co-founder of Economadia.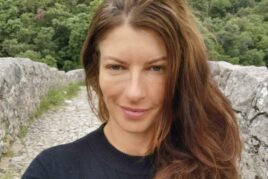 Rowena - Host
Rowena is the owner and manager of our beautiful location and is highly experienced in hospitality and making everyone feeling good. She's also yoga instructor and is tightly connected to the local community as she is living in the place all year around.
HOW TO GET THERE

If you don't take a rental car you can make it as far as Tryavna by bus or train. There is a bus from the village to Veliko Tarnovo and Tryavna-Gabrovo. Taxis are cheap and we can arrange an airport transfer if needed.
You can fly into Sofia, Plovdiv, Varna or Burgas; common airlines are Ryanair, Wizzair or EasyJet.
Our recommendation: take the train from Plovdiv to Tryavna which will give you a beautiful scenery!
---
SPECIAL ADD-ON – YOU WILL LOVE IT!
For the maximum experience you have the option to go together with our group to the famous Bansko Nomad Fest right after the workation! This is going to be from June 28th – July 03rd 2021. That will be the cherry on the cake of the whole experience!
Simple: if we have to cancel the workation due to the fact that it is impossible to travel to Bulgaria we give you 100% of your money back.
THESE PARTNERS ARE ON BOARD